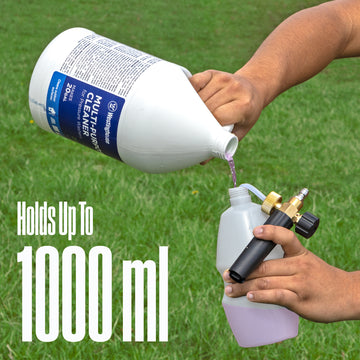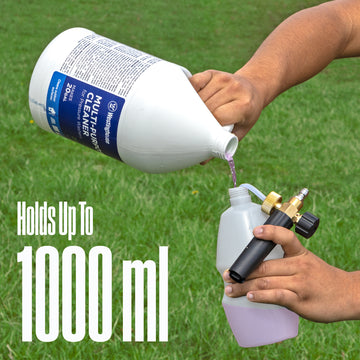 Westinghouse Foam Cannon for Pressure Washers
Thick, even snow foam coverage, perfect for auto detailing
Universally compatible with nearly all pressure washers
Industry Leading 180 Day Warranty
The Westinghouse foam lance attachment is intended for any commercial or personal cleaning tasks. This attachment is perfect for cleaning cars, windows, fences, furniture, awnings, and more–an essential part of any power washer's toolkit. The simple and easy to use design means anyone from first-timers to professional cleaners can use this attachment. Eliminate caked on dirt, grime, and dust from a variety of surfaces that need regular cleaning at the home or at a business such as cars, windows, fences, furniture, awnings, and more in no time at all using preferred cleaning solutions. Universal ¼" quick connection fitting allows for quick swapping of attachments to make quick work of large projects with many different needs with ease. Effortlessly withstanding daily high pressure use, the foam lance attachment performs with lasting capability and will not crack under the pressure. The Westinghouse brand is known for providing quality products to Americans for over 100 years, so this attachment includes a 180-day customer warranty to certify its lasting quality.
This professional grade foam cannon turns cleaning concentrate into thick snow foam lather, providing total, even coverage of your car, home, or outdoor surface

Used by the pros, this foam cannon attachment is step one in a perfect auto detailing

Simply fill soap tank reservoir with preferred cleaning concentrate and watch as powerful, even foam is shot out of cannon gun (rated up to 3600 PSI)

This foam cannon attachment has a ¼" female quick connect for use with most pressure washers. Simply swap nozzles and start cleaning.

Save time and effort - easily adjust suds and spray concentration for maximum cleaning power.

For over a century, Westinghouse has been delivering top-quality products to meet the needs of customers across America. This product is backed by a 180-day limited warranty to ensure quality.