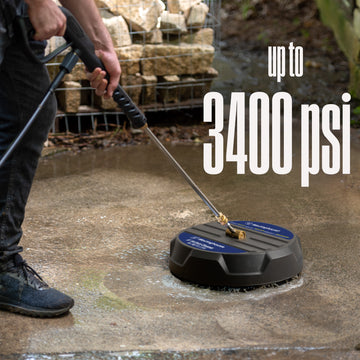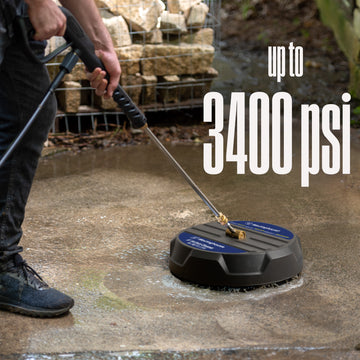 Westinghouse Surface Cleaner for Pressure Washers
3200 max PSI with 15 inch cleaning area
Universal ¼" quick connection fits most pressure washers
Industry Leading 180 Day Warranty
Westinghouse Surface Cleaner for Pressure Washers
Overview
Specifications
Manuals
Reviews
Where To Buy
Westinghouse Surface Cleaner for Pressure Washers
Overview
Specifications
Manuals
Reviews
Where To Buy
The Westinghouse 15" pressure washer surface cleaner attachment is intended for cleaning various surface materials like brick, wood, concrete, and more. Both beginners and professionals will enjoy this easy to use and reliable attachment in their homes or at their businesses. The 15" cleaning area will make quick work of large, flat areas both horizontally and vertically. Rated up to 3400 PSI and minimum of 2500 PSI, this surface cleaner is powerful enough to eliminate stuck-on dirt without harming the surface material. Compatible for use on most gas pressure washers with a ¼" quick connect fitting making it an easy addition to any pressure washer's toolkit. Both light and durable, this attachment can fit neatly inside the home or on a vehicle–making it perfect for either commercial or personal use. The Westinghouse brand is known for providing quality products to Americans for over 100 years, so this attachment includes a 180-day customer warranty to certify its lasting quality.
Achieve professional-level cleaning results with this 15" surface cleaner, boasting up to 3400 PSI, minimum of 2500 PSI, pressure for efficient cleaning of flat surfaces like patios, decks, and driveways.

Seamlessly switch between attachments with 1/4" quick-connect fitting, compatible with most pressure washers.

Get powerful cleaning in a small package with this 4 lb, 15 inch surface cleaner - designed for easy storage and durable use on all surfaces.

With a 3400 PSI rating, our surface cleaner attachment powers through large, flat cleaning projects like walls and floors in record time. Enjoy faster and more efficient cleaning compared to regular wand attachments.

The simple and easy to use design means anyone from professionals to homeowners can pick up this pressure washing attachment and tackle a variety of difficult cleaning tasks.

For over a century, Westinghouse has been delivering top-quality products to meet the needs of customers across America. This product is backed by a 180-day limited warranty to ensure quality.