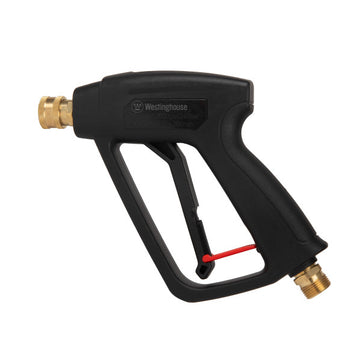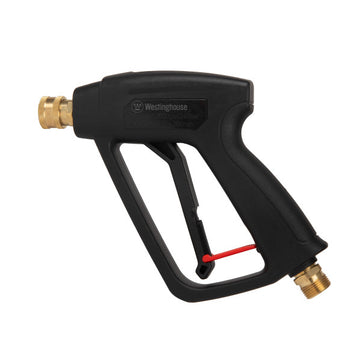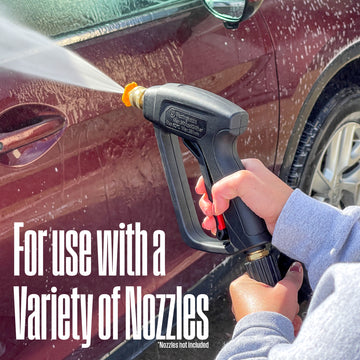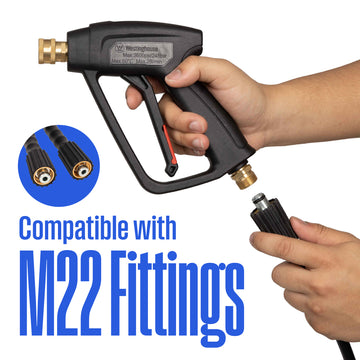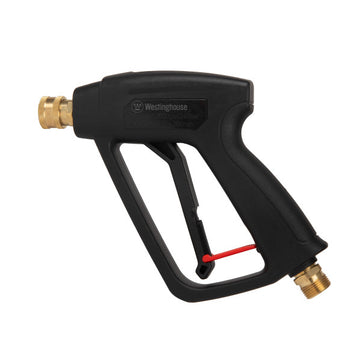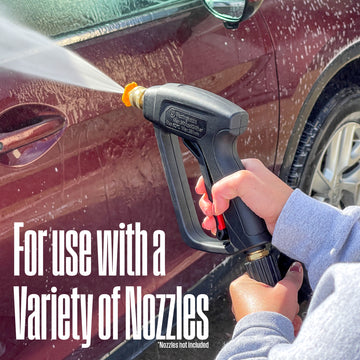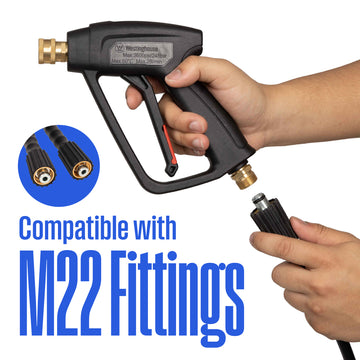 Westinghouse Short Gun for Pressure Washers
Up to 3600 PSI
M22-14mm inlet and ¼" quick connection for most pressure washers
Industry Leading 180 Day Warranty
The Westinghouse short pressure washer gun attachment is intended for any commercial or personal cleaning tasks. This attachment is perfect for cleaning cars, windows, fences, furniture, awnings, and more–an essential part of any power washer's toolkit. Works well with a foam cannon attachment to optimize efficiency. The M22-14mm inlet and ¼" quick connect female outlet connectors will fit most standard pressure washing units. This short pressure washer gun is easily stored for travel or home use. The pistol shape gives it easy maneuverability when cleaning hard-to-reach spots and low hand strain over long periods of use for larger projects. The short pressure washer gun is intended for everyday uses and will perform with lasting capability while withstanding daily high pressure use. The Westinghouse brand is known for providing quality products to Americans for over 100 years, so this attachment includes a 180-day customer warranty to certify its lasting quality.

Unlock new pressure washing capabilities with this Westinghouse Short Pressure Washer Gun. More interchangeability and more compatible accessories than standard pressure washer wand.

Pair with Westinghouse Foam Cannon to achieve the highest quality soap coverage for your auto detailing and car washing

Capable of up to 3600 PSI, allowing for maximum cleaning with maximum durability

Weighs just over a pound and fits in one hand, this pressure washer gun is easily stored and taken on the road. Pistol shape gives this attachment solid maneuverability with low strain over long durations of use.

The short pressure washer gun uses an M22-14mm inlet and ¼" quick connect female outlet which will fit most pressure washers with ease.

For over a century, Westinghouse has been delivering top-quality products to meet the needs of customers across America. This product is backed by a 180-day limited warranty to ensure quality.